360 Degree Charters, LLC.
Welcome to 360 degree world of nautical know-how. Whether you're Looking to enjoy a day on the bay with your friends and family, or move your yacht safely and easily, we do it all.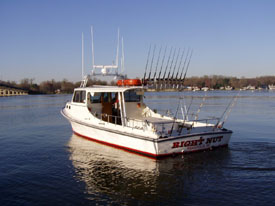 Our knowledgeable staff of captains and crew have the experience and ability to lead you to the maximum potential of your time. The Chesapeake Bay is where our captains feel at home. For more information on the experience and ability of our crew, check out the Captain & Crew Page.
Ah, the fishing! As you can imagine, the bay is full of exciting, tasty fish. Our crew knows where to find the best bluefish, rockfish, flounder, croaker, anything you can imagine. We offer daily fishing cruises, and night fishing expeditions. Check out our Fishing Charters Page.

The chesapeake is also home to many wonderful landmarks and natural landscapes. To experience these first hand, we offer dinner and tour cruises. Private charters are also available. To find out more about sunset dinner cruises, click here.

Sometimes boats need to be moved safely from one place to another. With yacht management, you can rest assured that your boat will be handled in a professional manner. Click here for the yacht management page.

The culture of the Chesapeake Bay is rich indeed. The locals are prone to throw festivals and parties for the purpose of catching (or more importantly, eating!) fish! There are special events throughout the season, and we'll be there for the party! Check out our Special Events page for more information on the special events occuring on the bay this season.

Before you depart on your venture, we have a couple of tips and suggestions so that you enjoy your trip. Please read the Be Prepared section thoroughly.

To see photos of some great times, check out the Photo Gallery.